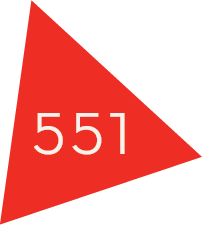 Now Available: Contemporary, 115
–

2,400 SF Loft Offices
High Speed Internet
•
Hudson's Premiere Location
A unique leasing opportunity
for bold creators and innovators
Built in 1870, 551 Warren was originally home to Hudson's first department store, the Marsh
& Bachman Company. In 1994,
the addition of elevator bays modernized the building's four-
story structure.


551 Warren has undergone
dramatic top-to-bottom capital improvements to reflect Hudson's ongoing transformation. It is a truly exceptional building for many potential uses; architectural firms, creative agencies, and financial or professional services.
• On bustling Warren Street,
next to many creative businesses
• Both small and large loft spaces
• Elevator access
• High Speed Internet
• Newly renovated
• Shared conference room
• Storage space available
View photos of completed spaces below
Just two hours from New York City, Hudson is a vibrant arts and cultural center that draws shoppers and visitors all year round. Hudson's train station (a 10 minute walk from 551) is the third busiest Amtrak hub in the state.
In 2012, American City Business Journals Inc. found that Hudson led the state in per capita self-employment.
This statistic is reflected in the current business growth that attracted a variety of entrepreneurs, including Etsy,
the online marketplace. Performance spaces such as Basilica and Helsinki host world-class artists, and the city's Winter Walk, three-day Music Fest, and Arts Walk are annual events that keep the town hopping.
Come join the growing economy in Hudson. Work alongside other 551 tenants including web design agency Hidden Gears and fine art framer Walnut Hill. Hudson has become much more than a destination for weekend antiquers.
It is "Upstate's Downtown" where local businesses benefit from a closely woven fabric of like-minded professionals.
© 2016 551 Warren. All rights reserved.